When you need hedging Hedging St Kilda experts, look no further than Fernz Landscaping & Garden Maintenance.
Our team have the knowledge and expertise to trim all types of hedges, We have considerable expertise in working with hedges of all types and sizes and will produce a result that both complements and enhances the aesthetic appeal of your property. We offer professional Hedging St Kilda hedging of the highest quality by delivering results to your exact specifications each and every time.
The Fernz team have been providing Hedging St Kilda hedging services for over 20 years
Routine hedging is vital for hedges to maintain their shape. Left unattended trees and shrubs will revert back to their natural shape. Once per year is the general minimum that hedges need to be maintained. Allowing hedges to grow unchecked often results in a hedge that cannot be restored back to its original shape. Fernz Landscaping & Garden Maintenance provide a complete hedging Hedging St Kilda service and specialise in tall or high hedges. Whether you have a small or tall hedge rest assure that the Fernz team can keep your hedges looking beautiful all year round.
Looking For Hedging Services In Hedging St Kilda ?
Hedges play an important role in outdoor landscaping and design. They help to provide your yard with beauty as well as privacy. Making your hedges look their best does require a few services a year. This can be time consuming and you will also need to have a firm understanding of proper pruning for each type of plant. A well maintained hedge highlights your property and its landscape with an aesthetic look. Depending on their type and age, hedges need specific care to ensure they don't overgrow. When it comes to your hedges, constant attention to both the plant and the soil will keep them healthy and vibrant.
We can keep your hedges nicely shaped and safe for your property and anything residing on it. Our specialists have the experience and the equipment required to trim hedges of any size. When beautifully trimmed, it is the classic way to give an outdoor area a touch of class and the perfect finishing touch to a delightful garden. It can also provide valuable privacy for your home and protect your garden from the elements. Rest assured with confidence that your satisfaction with our hedging Hedging St Kilda service is our number one priority.
We Provide Professional And Affordable Hedging Hedging St Kilda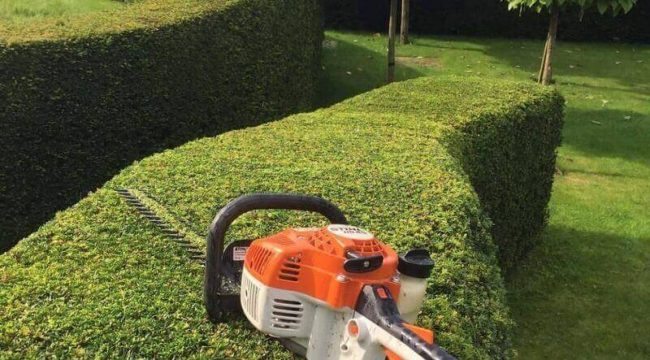 Fernz Landscaping & Garden Maintenance have close to 20 years of experience providing hedging Hedging St Kilda services. Our team prides itself on providing the highest of standards to produce a hedge our customers can appreciate and be proud of. We look at your hedge as an art form – once we complete the hedging, we want you to be as proud of the work as we are. There is a 'wrong way' and a 'right way' of cutting a hedge. You can be confident in knowing that we never take 'short cuts' or drop our standards which can compromise the look or overall health of the hedge.
The Fernz team aren't satisfied unless you're 100% happy with the job.
When you need hedging Hedging St Kilda experts, look no further than Fernz Landscaping & Garden Maintenance. With knowledge of the ideal ways to hedge all types of hedge plants, we perform both formative and maintenance pruning to get your garden back under control. If you have an established hedge, it will need to be regularly trimmed to ensure that it remains as dense and compact as possible. If you have a new hedge, it will need formative pruning for the first few years after planting. When it comes to tall or high hedging we have all the tools and equipment on hand for all your needs. Preparation is the key together with the correct tools and equipment you can be assured of a professional and speedy job.
Contact Us About Your Hedging St Kilda Hedging Needs
When it comes to hedging in Hedging St Kilda, you need to rely on Fernz Landscaping & Garden Maintenance. We have all the necessary equipment, experience, knowledge and expertise to provide a hedging service to perfection. We will ensure that your hedges are maintained in optimal condition throughout the year. We offer the best value for money when it comes to our Hedging St Kilda hedging service for your property without any compromises on quality. So get in touch with us and let us professionally fix your overgrown hedges today. If you need assistance with any hedging service in Hedging St Kilda, contact Fernz Landscaping & Garden Maintenance today. We will be happy to provide a free quote or answer any questions you might have about our services.